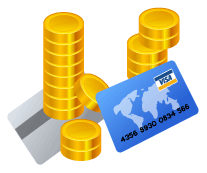 When buying items online I encourage you to know who you are buying from. E-Bay and Craigslist can be great purchasing tools, but, they also can be a way to lose money if not approached properly. When purchasing from E-Bay be sure to check the seller's rating. E-Bay has a badge they place on the page of a top rated seller which means the seller consistently receives high feedback ratings, ships their items quickly, and has a track record of excellent customer service. Craigslist does not have this luxury and you are at risk of being scammed with no recourse using their services. When purchasing from other locations you should do some research before purchasing from a website you have never heard of before. Going into Google you can type the name of the website in quotes to see websites that reference the website in question.
Personally I shop through major brand websites. Two of my favorites are Amazon.com and CompUSA.com. CompUSA.com is also known as Tiger Direct. I have had good luck with NewEgg.com as well. When shopping at Amazon.com you are dealing with many stores. Because of this you can find many prices for the same product. This means that sometimes you are required to do some detective work to find the best deal available.  One of the great things about Amazon.com is their free shipping on many products. They call this their "Free Super Saver Shipping" and you are eligible to receive this on orders of $25 or more. They state that you will receive your product in 5-8 business days. Generally I have received my products in 5 days when using this option. I shop through Amazon.com so much I signed up for "Amazon Prime".  Amazon Prime costs $79 a year and gives you unlimited free two-day shipping on items that would normally qualify for the Free Super Saver Shipping. If two days seems too long I receive one-day shipping for $3.99 per item. I can also ship things to other people and receive this deal.
When shopping for a product such as a motherboard I usually go to a site like CompUSA.com and start browsing in the Motherboards section under PC Components. CompUSA does a nice job of sorting out their products into subcategories. I know that I want to have a top of the line motherboard so I will sort them by AM3 socket which is the latest one on AMD motherboards. This narrows the choices down to 25 motherboards. From here I can start to look at the features of each board and sort them by price, popularity, or customer rating. Amazon.com and CompUSA.com provide customer feedback on the purchase page so you can see what people like or dislike about that particular product. While looking around I noticed a motherboard by a major manufacturer that was offering a $25 rebate. CompUSA.com was offering a $45 instant savings deal. This made a product that normally would be $119.99 only $49.99. Deals like this happen all the time if you are able to find them. Remember to always look at the instant savings as well as rebates that are available when shopping on CompUSA.com. When shopping Amazon.com do not forget to calculate in the shipping to the final cost of the product to see if you can get a better deal on a product that ships for free. If you know the brand and model number of the item you are looking for don't be afraid to search for that particular model number on multiple shopping sites. You may find the exact product for a cheaper price elsewhere.

A wonderful thing on Amazon.com is their "What Do Customers Ultimately Buy After Viewing This Item" feature that is displayed on most product pages. Many times you will see the same product or a better version of that product available at a cheaper price. At our last meeting I gave an example of shopping for camera batteries recently. I was looking for a particular type of battery that fit into a point and shoot camera I own. I typed in the battery model number and a large number of products were listed. I eventually came across a battery that is made by Radio Shack and only cost 99 cents and had no shipping charge. Since I am an Amazon Prime member I received the free two-day shipping upgrade and received both products two days later.