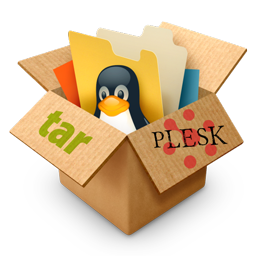 Plesk2Dropbox is a script I created that will take your most recent Plesk server backup, create a single TAR file, and then uploads that TAR file to Dropbox using the day of the week as the name. This allows you to create a cron job at any interval greater than 24 hours. If you do a nightly backup there will be a file for each day of the week in your Dropbox backup folder.
Plesk has an extension that allows you to do a nightly backup of an individual account or the whole server to Dropbox. I found that it was impossible to do anything but a nightly backup using this setup and the full server backups never successfully uploaded to Dropbox.
Filenames will resemble: Saturday.tar, Monday.tar, etc.
Usage: plesk2dropbox-backup.sh 

[

-v : Verbose Mode

]

 

[

-r : Run Backup

]

 

[

-s : Dropbox Status

]

 

[

-h: Display Help

]


  

-v

 : Displays a detailed output of settings and verifies all folders exist.
  

-r

 : Runs the script. If running 

in

 a cron job you will need to run this argument.
  

-s

 : Checks the current status of any Dropbox uploads and downloads.
  

-h

 : Displays this 

help

 page.
A backup file will not be created unless you use the -r option.
Run the -v option to verify your configuration is correct before attempting to use the -r option.
Make sure you verify lines #35 and #38 to ensure they are compatible with your system configuration.
You must have Dropbox installed and configured prior to running this script.
1
2
3
4
5
6
7
8
9
10
11
12
13
14
15
16
17
18
19
20
21
22
23
24
25
26
27
28
29
30
31
32
33
34
35
36
37
38
39
40
41
42
43
44
45
46
47
48
49
50
51
52
53
54
55
56
57
58
59
60
61
62
63
64
65
66
67
68
69
70
71
72
73
74
75
76
77
78
79
80
81
82
83
84
85
86
87
88
89
90
91
92
93
94
95
96
97
98
99
100
101
102
103
104
105
106
107
108
109
110
111
112
113
114
115
116
117
118
119
120
121
122
123
124
125
126
127
128
129
130
131
132


#!/bin/bash




# ---------------------------------------------------------------------------




#




# Copyright 2014




#




# This program is free software: you can redistribute it and/or modify




# it under the terms of the GNU General Public License as published by




# the Free Software Foundation, either version 3 of the License, or




# (at your option) any later version.




#




# This program is distributed in the hope that it will be useful,




# but WITHOUT ANY WARRANTY; without even the implied warranty of




# MERCHANTABILITY or FITNESS FOR A PARTICULAR PURPOSE.  See the




# GNU General Public License at  for




# more details.




#




# Usage: plesk2dropbox-backup.sh [-v : Verbose Mode] [-r : Run Backup] [-s : Dropbox Status] [-h : Display Help]




#




# Revision history:




# 0.1 - Initial version




# 0.2 - Changed from dash to bash and converted echo strings.




#      Set TERM environment variable to avoid error message in Cron job.




#      Added ability to check the status of uploading your current backup.




# 0.3 - Adjusted path to be compatible with CentOS.




#




# 09-27-2014 Created by Brian Aldridge - www.BiteOfTech.com




# ---------------------------------------------------------------------------




export

 

TERM

=

${TERM:-dumb}




PROGNAME

=

${0##*/}


 


#Grab path that is compatible with various distros.




PRODUCT_ROOT_D

=

`

grep

 PRODUCT_ROOT_D 

/

etc

/

psa

/

psa.conf 

|

 

awk

 

'{print $2}'

`


 


#Setting colors for display.




red

=

"\033[31m"

;

yellow

=

"\033[33m"

;

green

=

"\033[32m"

;

nocolor

=

"\033[0m"


 


#Finds the day of the week.




currentday

="

$(date +"%A")

"
 


#Change to the temporary folder to store your backup file.




backuplocation

=

"/var/backups"

 

#CHANGEME


 


#Location of your Dropbox Backup Folder




dropboxfolder

=

"/root/Dropbox/Backups"

 

#CHANGEME


 


#This is the usual location of the Plesk backup files.




backupsource

=

"/var/lib/psa/dumps"


 


#Finds the most recent server backup created in Plesk.




currentbackup

="

$(ls -Art $backupsource/*.xml | tail -n 1)

"
 


#Gets just the filename for display purposes.




backupname

="

$(ls -1 $currentbackup | sed 's/^.*\///')

"
 


#Displays Help


usage

(

)




{

 

echo

 

-e

 "Usage: 

$PROGNAME

 [

${red}

-v

${nocolor}

 : Verbose Mode] [

${red}

-r

${nocolor}

 : Run Backup] [

${red}

-s

${nocolor}

 : Dropbox Status] [

${red}

-h

${nocolor}

: Display Help]"
 

}


 


#Catch options




while

 

getopts

 

"vrsh"

 opt; 

do


  

case

 

$opt

 

in


    

(

v

)


        

#Check if Backup Location directory exists


        

if

 

[

 

-d

 

$backuplocation

 

]

; 

then


                

echo

 

-e

 "

${green}

SUCCESS:

${nocolor}

 The Backup Location directory exists"
        

else


                

echo

 

-e

 "

${red}

ERROR:

${nocolor}

 The Backup Location directory does not exist"
        

fi


 
        

#Check if Backup Source directory exist


        

if

 

[

 

-d

 

$backupsource

 

]

; 

then


                

echo

 

-e

 "

${green}

SUCCESS:

${nocolor}

 The Backup Source directory exists"
        

else


                

echo

 

-e

 "

${red}

ERROR:

${nocolor}

 The Backup Source directory does not exist"
        

fi


 
        

#Check if Dropbox Backup directory exist


        

if

 

[

 

-d

 

$dropboxfolder

 

]

; 

then


                

echo

 

-e

 "

${green}

SUCCESS:

${nocolor}

 The Dropbox Backup directory exists"
        

else


                

echo

 

-e

 "

${red}

ERROR:

${nocolor}

 The Dropbox Backup directory does not exist"
        

fi


 
        

#Information output


        

echo

 ;

echo

 

-e

 "The backup named 

${yellow}

$backupname

${nocolor}

 will be exported to DropBox under the filename 

${yellow}

$currentday

.tar

${nocolor}

";

echo


        

echo

 

-e

 

"Current Backup   : "

${red}

$currentbackup

${nocolor}


        

echo

 

-e

 

"Backup Name      : "

${red}

$backupname

${nocolor}


        

echo

 

-e

 

"Backup Location  : "

${red}

$backuplocation

${nocolor}


        

echo

 

-e

 

"Backup Source    : "

${red}

$backupsource

${nocolor}


        

echo

 

-e

 

"Dropbox Folder   : "

${red}

$dropboxfolder

${nocolor}


        

echo

 

-e

 

"Current Day      : "

${red}

$currentday

${nocolor}

;

echo


 
        

#Removing --no-gzip did not seem to shrink the filesize of the backup.


        

echo

 

-e

 "Example Output: 

${yellow}

/usr/bin/perl 

$PRODUCT_ROOT_D

/admin/bin/plesk_agent_manager export-dump-as-file --dump-file-name=

$currentbackup

 --output-file=

$backuplocation

/

$currentday

.tar --no-gzip

${nocolor}

"
        

#.gz is not on the end of the file since this is not gzipped.


        

echo

 

-e

 "Example Output: 

${yellow}

mv -f 

$backuplocation

/

$currentday

.tar 

$dropboxfolder

/

${nocolor}

";

echo


      

;;


    

(

r

)


        

echo

 

-e

 

"Exporting backup to TAR file."


        

/

usr

/

bin

/

perl

 

$PRODUCT_ROOT_D

/

admin

/

bin

/

plesk_agent_manager export-dump-as-file 

--dump-file-name

=

$currentbackup

 

--output-file

=

$backuplocation

/

$currentday

.tar 

--no-gzip


        

echo

 

-e

 

"Export done."


        

echo

 

-e

 

"Copying file to Dropbox."


        

mv

 

-f

 

$backuplocation

/

$currentday

.tar 

$dropboxfolder

/


        

echo

 

-e

 

"Copy done."


     

;;


    

(

s

)


        

echo

 

-e

 

"Checking the status of Dropbox."


        dropbox status
     

;;


    

(

h

)


        usage
        

echo


        

echo

 

-e

 " 

${red}

-v

${nocolor}

 : 

${yellow}

Displays a detailed output of settings and verifies all folders exist.

${nocolor}

"
        

echo

 

-e

 " 

${red}

-r

${nocolor}

 : 

${yellow}

Runs the script. If running in a cron job you will need to run this argument.

${nocolor}

"
        

echo

 

-e

 " 

${red}

-s

${nocolor}

 : 

${yellow}

Checks the current status of any Dropbox uploads and downloads.

${nocolor}

"
        

echo

 

-e

 " 

${red}

-h

${nocolor}

 : 

${yellow}

Displays this help page.

${nocolor}

";

echo


        

echo

 

-e

 

"This script was developed by Brian Aldridge. For updates and contact information please visit http://www.BiteOfTech.com"


     

;;


    

(

?

)


        

echo

 

-e

 

"Invalid Option"


        usage
        

exit

;;


  

esac




done


 


# Checking for no attribute.




if

 

[

 

-z

 

"$1"

 

]


 

then


  usage
  

exit

 

1


 

fi