There are many, many websites that offer products you can order from the comfort of your home. But just like "real" shopping, the smart shopper searches his/her options and compares quality and prices before making a purchase. This post is an overview of a few of the sites I like to use for both online shopping and online couponing.

Amazon is a great resource for a variety of different products. If you type "computer microphone" in the search box at the top, for instance, over 19,000 results appear. If you want to narrow this search down, instead of changing your wording in the search bar, you can view the options on the left side of your screen such as different brands (Olympus, Logitech, Koss, etc) or by Features (open ear, in ear, karaoke, etc). If you click on an option, a larger picture will appear and it will show you the list price and the Amazon price, as well as all the information you need about the product and products that are frequently bought with the one on your screen. It will automatically calculate how much you will save if you purchase it through Amazon, you can choose the rate of shipping you want (two-day shipping is free with a prime account), and they'll even offer to gift wrap it for you! Amazon is a great tool to search for products around the world at an affordable cost. Amazon also offers a "daily deal" on a service or product in your area. Just go to www.local.amazon.com to see the daily deal in your area. Amazon's local deals offer a discount of no less than 50%. Just last week I was offered a discount of 93% on massage and chiropractic service! You can either check this website daily or sign up for free and you will receive daily e-mails with the deal in your area from www.localdeals@amazon.com. 

There are many coupon sites on the internet, but the one I would like to focus on today is www.thekrazycouponlady.com. This website provides a wide variety of coupons from different stores, tips for beginners, the biggest "coupon of the day," links to other couponing sites, a "bragging lounge," and an option to sign up for updates by e-mail. Towards the top of the screen, you will see the different categories you can choose from.

Just click on one of the popular stores (colored in light blue), or use "Find My Store" to find a less-common store that may be in your area. This website will provide a list of all the coupons that store will accept for the week. Once you find the coupons you want, just click and print! This site uses sources from all different couponing sites, so it eliminates the need to "shop around" and search for any other coupons on the internet.

www.Zappos.com is a great online source for buying shoes, although it also offers other products such as clothing, accessories, and eye wear. Not sure if you want to purchase something without trying it on? Zappos has free shipping…both ways! If you aren't satisfied with your purchase, you can send them back within one year and Zappos will both refund you and pay for the shipping. Zappos is a typical online shopping site in that you can browse by a category or search for a specific product. What is different about it, however, is that you can "shop by personality," such as Mom-on-the-go, Casualist, Trendster, or All-American. I know many people that purchase through Zappos and are 100% satisfied.

www.Etsy.com is one of my favorite online shopping resources. Etsy is a website for a community of people who creatively make their products and would like to sell them to more people than just their neighbors and friends. Etsy's slogan is "Etsy-your place to buy and sell all things handmade, vintage, and supplies." If you create a free account with Etsy, it will link to your PayPal account and you can both buy and sell. There is also an in-site e-mailing service that provides you a way to ask sellers questions about their products.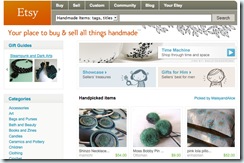 When you first go to www.Etsy.com, the main screen will show handpicked items, featured sellers, and recently listed items. To the left, there are 31 categories to choose from. If you know what you're looking for, just search for it in the search bar at the top of the screen. Suppose I choose the category "Vintage." Once on the vintage screen, there are 15 sub-categories to choose from on the left, if desired. Each listing provides a picture and a price. You can sort by most recent, highest priced, or lowest priced. When you choose an item, your screen will provide you with various pictures the seller has added, a complete explanation of the product, the price for the product as well as the shipping, and an "add to cart" option. You can also view a specific sellers shop to view what your friend, family member, highly rated, or favorite seller is offering. To sell on Etsy, simply create an account, take good pictures, click "sell" on Etsy's home screen, and follow the step-by-step instructions. You choose the price, the buyer will pay you directly through PayPal, and you ship the item to the buyer. If you love homemade crafts and are looking for a way to make a little extra money, consider selling your creations on Etsy.
With a little knowledge and practice, you can save and even make money online, all from the comfort of your computer desk.